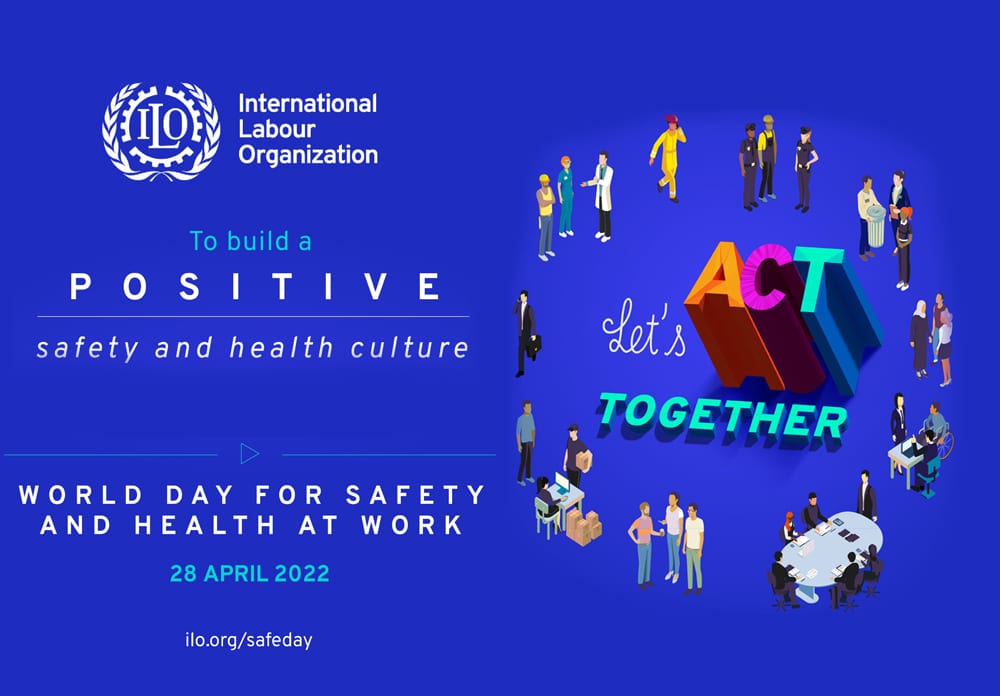 The International Labor Organization (ILO) celebrates the World Day for Safety and Health at Work on April 28 to promote the prevention of accidents at work and occupational diseases throughout the world. Also, April 28 is the date chosen by the global trade union movement to pay tribute to the victims of work accidents and occupational diseases.
The ILO aims to raise global awareness of the magnitude and consequences of work-related accidents, injuries, and illnesses, placing the health and safety of workers at the top of international agendas and supporting action all levels.
In the face of the worldwide COVID-19 crisis and its repercussions, the ILO reiterates its concern about the risks of virus transmission, especially in work areas. It has been found that having a strong occupational safety and health (OSH) system, including effective participation of governments, employers, workers, public health actors and all relevant stakeholders at the national and business, has been instrumental in protecting work environments and safeguarding the safety and health of workers during the pandemic.
World Day for Safety and Health at Work 2022 focuses on strategies to strengthen national occupational safety and health (OSH) systems by encouraging all parties involved to act together to build a positive safety and health culture.
The ILO states that if there is effective social dialogue, governments and social partners can be actively involved in all stages of OSH decision-making processes. Social dialogue not only contributes to improving OSH policies and strategies, but is also essential to foster ownership and commitment, paving the way for their quicker and more effective implementation.
Similarly, the ILO explains that to implement a solid OSH culture, company management must participate, as well as workers, valuing and promoting the right to a safe and healthy work environment. A positive OSH culture is based on inclusion, through the meaningful participation of all parties in the continuous improvement of safety and health conditions in the workplace. In a workplace with a strong OH&S culture, workers feel comfortable raising concerns about potential OH&S risks or hazards in the workplace, and management actively collaborates with workers to find appropriate, effective, and sustainable solutions. This requires establishing open communication and dialogue based on trust and mutual respect.
If you would like more information about the events and activities organized by the ILO for the World Day for Safety and Health at Work 2022 campaign, ACT TOGETHER TO BUILD A POSITIVE SAFETY AND HEALTH CULTURE, click on the link below.
Source: International Labor Organization (ILO)
COMPARTIR / SHARE: